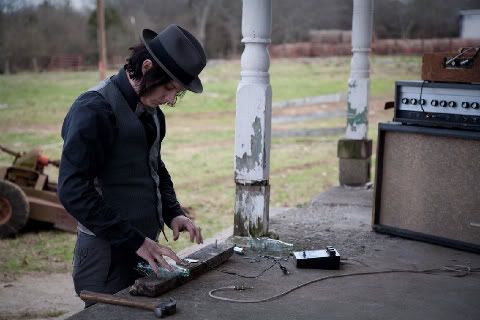 So the movie
It Might Get Loud
is now out in Chicago and Boston and in more theatres in NY and CA. Perhaps a few more of you have seen it. Those that have (or have seen the
trailer
) will remember a part at the opening when
Jack White
is tinkering around with a 2X4, some nails and a coke bottle. He builds a makeshift guitar and asks, "Who says you need to buy a guitar?"
Well, today the
Laura Vierna and Rick Tuma at the Chicago Tribune
featured a follow up guide to Do-It-Yourself guitar building much like that which was created by White in the movie.
Looks like a fun little arts and crafts project. Follow the pictorial directions at the
Trib website
to try it. Let us know what you create.
Oh, and go see the movie if you haven't already. Good flick.
Digg this |
Post to del.icio.us |
Facebook